Events

Food, Family, and Community: Celebrate Mother's Day with State Rep. La Shawn Ford (Sold Out!)
May 14, 2017 @ 1:00 pm

-

6:00 pm
Please RSVP to repford@lashawnford.com
Mother's Day is a celebration honoring the mother of the family as well as motherhood, maternal bonds, and the influence of mothers in society.  Please join 8th District State Representative
La Shawn Ford
,
Community Dining
, and
BUILD
for a special complimentary Mother's Day brunch prepared with love and reverence that celebrates the valuable contributions our mothers make and shows how a thoughtful and intentional shared meal can transcend barriers and unify people from all walks of life.
Perhaps now, more than ever, we could consider how Community Dining can help us rediscover the means of human interaction that we inherently know benefits us all – one in which we are free to connect with one another and create our own experiences with people we never would have met where authentic community naturally flourishes and ideas can peacefully collide to produce a greater body of knowledge and shared understanding.

"Brighter days are ahead of us all. I am passionate about building effective relationships as well as building bridges to success, meeting the needs of all." – La Shawn K. Ford
Born to an unwed teenage mother in the Cabrini-Green housing projects in Chicago, never knowing his father, and adopted by his grandmother at birth, La Shawn K. Ford started his life with few material advantages. Growing up in the Austin and Englewood communities in Chicago, he attended Catholic elementary and high schools by the hard work, tenacity and love of a supportive family and community.  Ford learned the value of hard work and made money for his family by shoveling snow, mowing lawns, collecting bottles and cans for recycling, and stocking produce in the local grocery store.  Being a good student, Ford became the first in his family to attend a four year college when he entered Niles College Seminary and then Loyola University Chicago, where he played on the basketball team and earned a Bachelor of Science in Education with a minor in Political Science.  For six years, Ford taught elementary school social studies and coached basketball in the Chicago Public Schools.  As a licensed Real Estate Broker, he founded his own real estate business, Ford Desired Real Estate.  He is an Illinois Licensed Insurance Agent and continues to be licensed as a teacher.  He is the proud father of his daughter, Tia. Because of his drive to increase social justice and address disparities in areas such as jobs, education, health, increasing opportunities for ex-offenders, small business development and housing, Ford was elected as state representative in 2006.  He was re-elected in 2008, 2010, 2012 and 2014 and represents a diverse district which includes the West Side of Chicago and the near western suburbs.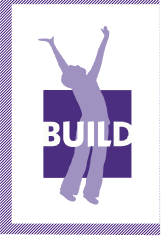 Since 1969, BUILD (Broader Urban Involvement & Leadership Development) has been a pioneer and innovator in youth development, now serving neighborhoods on Chicago's West (Austin, Humboldt Park, Hermosa, West Town) and South (Fuller Park, Bronzeville) Sides. Through three primary program areas — Prevention, Intervention, and BUILDing Futures — BUILD partners with an array of stakeholders to offer a spectrum of services designed to build lives and futures. Whether by providing a school-based curriculum, youth leadership opportunities, positive out-ofschool activities or intensive, individualized mentoring, all of BUILD's programs share the same objectives:
to reduce negative behaviors, school expulsions and withdrawals, recidivism rates, and court and gang involvement, and
to increase pro-social behaviors, school readiness and success, college access, and opportunities for happy, productive futures.
Mission
BUILD's mission is to engage at-risk youth in the schools and on the streets, so they can realize their educational and career potential and contribute to the stability, safety and well being of our communities.
Vision: Grow Hope. Save Lives. BUILD Futures.
BUILD believes that every child deserves a bright future regardless of individual challenges or neighborhood barriers. To transform children's lives from at-risk to at-hope, BUILD provides comprehensive services across critical developmental milestones, meeting young people where they are: in the schools, on the streets, or in the courts. Providing continuity in communities that too often face disruption, isolation and change, BUILD strives to be a constant and trusted resource for youth whether they are struggling to stay in school and out of gangs, or striving to go to college and build a career.